or lol
Amagami SS+ p
lus
Episodes: 12
Aired: January 6
Genres: Romance, Shoujo Ai
Ano Natsu de Matte
ru
The October issue of Gakken's Megami Magazine is announcing on Tuesday that Onegai Teacher/Onegai Twins story creator Yousuke Kuroda and Onegai franchise character designer Taraku Uon are collaborating on a new original anime called Ano Natsu de Matteru. The anime will be an adolescent romantic comedy.
The three main characters are the two girls Ichika Takatsuki and Remon Yamano, and the boy Kaito Kirishima.
Aired: January 10, 2012
Genres: Comedy, Romance
Another
26 years ago, in a third-year classroom of a middle school, there was a student named Misaki. As an honors student who was also good at sports, the charming girl was popular with her classmates. When she suddenly died, her classmates decided to carry on as if she was still alive until graduation. Then, in the spring of 1998, a boy named Sakakibara Kouichi transfers to that classroom, and he grows suspicious of the fearful atmosphere in that classroom. In particular, there is a beautiful, aloof girl named Mei Misaki who wears an eyepatch and is always alone drawing pictures.
Episodes: 12
Aired: December 26, 2011 ( pre-screen) - January 9
Genres: Mystery, Drama, Horror, School
Aquarion Evol
The story will take place 12,000 years after the first Aquarion television series at a city modeled after Hong Kong. A new cast of characters, piloting a new Aquarion robot, will fight enemies from another dimension.
Aired: January 9, 2012
Genres: Action, Comedy, Drama, Fantasy, Mecha, Romance, Sci-Fi
Area no Kishi
Believing himself to be useless at football, Aizawa Kakeru opts to become the manager of his school's football team, while his brother Suguru is its ace, and is even good enough to represent Japan. However, Kakeru may be harbouring a strong talent within himself that only Suguru can see, and the two often get into arguments over Kakeru's denial of his skills. Things are made more complicated with the return of Nana, an old playmate of theirs that Kakeru has a crush on. Join the brothers in their journey to the national and even international championships!
Aired: January 7, 2012 to ?
Genres: Comedy, School, Shounen, Sports
Brave 10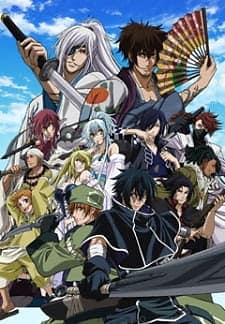 The story reimagines the legendary adventures of the 10 brave warriors assembled by the warlord Sanada Yukimura in the year 1600, in the middle of Japan's tumultuous Sengoku (Warring States) era.
Aired: January 8, 2012
Genres: Action, Adventure, Historical, Seinen
Danshi Koukousei no Nichijou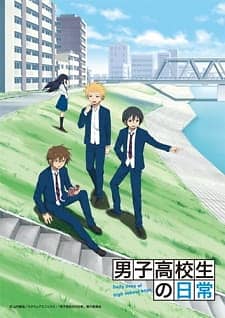 The original gag comedy manga follows the humorous yet "realistic" everyday life of Tadakuni, Hidenori, Yoshitake, and other students at a boys' high school.
Aired: Nov 3, 2011 Pre-airings - January 9 the real TV
Genres: Comedy, School, Shounen, Slice of Life
High School DxD
The story follows Issei Hyodo, a dim-witted, lecherous second-year high school student who is killed by a girl on his first date ever. Issei is reincarnated as a devil, and from that day forward, he serves as an underling of Riasu, a high-level devil who is also the prettiest girl on Issei's campus.
Aired: January 6, 2012
Genres: Comedy, Demons, Ecchi, Romance, School
Inu × Boku SS
The Shirakiin house's daughter, Shirakiin Riricho, who has a complex about being unable to live independently and unprotected, feels the need to move out and live on her own under the condition of residing in the mansion named "Ayakashi Kan." In this mansion, only those who have cleared a very strict examination could reside in it, and for each resident, they are accompanied with one agent of the Secret Service (S.S.). Although Riricho has rejected the company of the S.S., while residing in the mansion she finds out that the agent dedicated to protecting her is actually the Fox Spirit whom she previously rescued.
Aired: January 13, 2012
Genres: Comedy, Mystery, Shounen, Supernatural
Baby, Please Kill Me!
Kill Me Baby is a 4-panel style manga that follows the comedic life of a typical school girl Yasuna and her assassin classmate Sonya. Sonya's attempt to fit in often fails when her natural assassin instincts kick in and Yasuna's attempt to be more friendly with Sonya often gets her hurt or intimidated. Kill Me Baby's cute sense of humor will keep you wanting more.
Aired: January 6, 2012
Genres: Comedy, School, Seinen
Papa no Iukoto wo Kikinasai!
Segawa Yuta is a freshman of a university. He lost his parents when he was small and was raised by his sister Yuri. Yuta has been living alone since Yuri got married to a middle aged man when Yuta was a junior high student.
One day, Yuri visited Yuta's apartment and asked him to take care of her three daughters while Yuri and her husband were on a trip. He unwillingly accepted the job but the plane Yuri took went missing. In order to prevent the daughters from being adopted separately by relatives, Yuta decided to take in all three girls.
A life of a strange family in a tiny apartment begins. (The elder two of the daughters are stepchildren of Yuri's husband. The smallest one is Yuri's child.)
Aired: January 11, 2012
Genres: Comedy
Moretsu Pirates
The story centers around a spirited high school girl named Marika. She keeps herself busy with the space yacht club and her part-time job at a high-class retro café. One day, two men suddenly appear and claim to be subordinates of her dead father. They demand that she assume command of the space pirate ship Benten Maru. A privateer ship's compact was made during a war of independence a century ago, and according to that compact, the ship must be inherited by the captain's next direct descendant. Marika finds herself embarking on a new life as a space pirate.
Aired: January 8, 2012
Genres: Sci-Fi, Space
Natsume Yuujinchou Shi
Aired: Jan 2, 2012
Genres: Drama, Fantasy, Shoujo, Slice of Life, Supernatural
New Prince of Tennis
Aired: January 5, 2012
Genres: Action, Comedy, School, Shounen, Sports
Nisemonogatari
The black swindler Kaiki Deishu, who once deceived Hitagi, returns to town and spreads the incantation which cursed Nadeko before.
Koyomi's sisters Karen and Tsukihi try to capture Deishu but...
Aired: January 7, 2012
Genres: Comedy, Supernatural
Rating: R - 17+ (violence & profanity)
Rinne no Lagrange
Kyono Madoka is a 17-year-old girl, who loves her home town Kamogawa and likes to help people in trouble. She rides a robot called Woks in her jersey wear and fights against aliens.
Episodes: 12
Aired: January 9, 2012 second season in July
Genres: Comedy
Senhime Zesshou Symphogear
Humans have been menaced by mysterious monsters called "Designated Aberrant Disaster: Noise". Tsubasa and Kanade are a popular vocal unit "Twei Wing". They wear the new weapon "Symphogear" and fight against Noise to save the earth.
Aired: Dec 26, 2011 . The regular TV airing began on January 7th.
Genres: Action, Music, Supernatural
Zero no Tsukaima F
Aired: January 7, 2012
Genres: Adventure, Ecchi, Fantasy, Magic, Romance
Black★Rock Shooter
Episodes: 8
Aired: February 3, 2012
Genres: Action, Drama, School, Slice of Life